7 Best Writing Apps (2023): Top Writing Software For Everyone
Are you looking for the best writing software to help you write a novel, article, or blog post? Writing is an essential skill that can be used in many different aspects of life.
Whether you're a student, a professional writer, or someone who just wants to express yourself creatively, having access to quality writing software is essential.
Luckily there are plenty of tools available today that make it easier than ever to create high-quality content quickly and easily.
In this article, we will explore the 7 best writing apps so that anyone can find the perfect tool for their needs!
Scrivener
Is a powerful writing software program created for professional authors & screenwriters. It helps users draft, edit, organize & structure their projects.
yWriter
Features an intuitive user interface which makes it easy to manage large documents and create outlines to make sure your writing is up to standard.
Ulysses
Ulysses is a writing and note-taking app designed to help authors, journalists, bloggers, and students organize and structure their projects.
From novel writing software to basic word processors and even advanced editing tools – no matter what your project requires there's something here for everyone!
Let's get started.
____
What Are The Novel Writing Software?
Best Novel Writing App ($23.99)
Scrivener
is ideal for writers who need more advanced features and organization tools than what most word processing programs offer. It's perfect for those who are writing novels, non-fiction works, scripts, documents, reference materials, or other long-form pieces of writing.
Scrivener is a powerful word processor and project management tool designed specifically for writers.
It provides tools to structure and organize your writing, as well as research and edit documents.
It allows you to quickly switch between topics and take notes while providing an array of formatting options to help you create professional-looking documents.
Furthermore, it can be used for podcast production, scriptwriting, book publishing, software development, and many other tasks.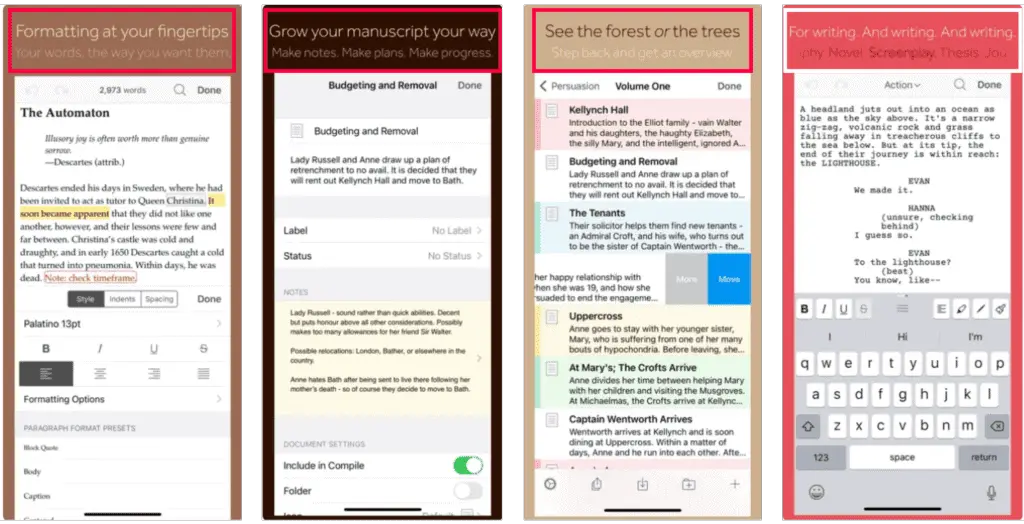 Key Features
Get Started
Interactive tutorial project
Keep each manuscript and supporting materials in a self-contained project
Import Word, RTF, Final Draft and plain text files
Easily split imported text into separate sections
Get Writing
Write your manuscript in sections of any size
View all sections as a single text using the "Draft Navigator" (iPad only)
Quickly navigate sections using the "binder" sidebar
Format with fonts and presets
Comments, footnotes, links, and highlights
Simple bullets and lists
Insert images
Pinch-zoom to resize text
Full-screen mode (iPad only)
Typewriter scrolling mode keeps typed text center-screen (iPad only)
Write a screenplay using scriptwriting mode
Live word and character counts
Set word and character count targets
Find and replace
Customizable keyboard row provides quick-access buttons for formatting, navigation and punctuation
Comprehensive keyboard shortcuts for external keyboard users
Dark mode
Find Your Structure
Write in any order and reorganize later
Write a synopsis for any text section and see it in the outline
Expand, collapse, and drill down into sections of your project
Rearrange sections as index cards on the corkboard (iPad only)
Project-wide search
Track ideas using labels and status
Apply custom icons to your sections
Refer to Research
Import research material such as image, PDF and media files
View research files or other sections right alongside your writing (iPad only)
Every section has its own notes area for jotting down ideas
Supports multi-tasking split screen mode (supported devices only)
Share Your Work
Compile to a single document for sharing or printing
Use different formatting in your exported or printed document
Export to Word, RTF, Final Draft, PDF or plain text
Convert rich text to Markdown for sharing with Markdown apps
Create and email zipped backups of your projects
Work Anywhere
Use Dropbox to sync between devices and with the macOS and Windows versions of Scrivener*
Copy projects between devices via iTunes
* Requires a Dropbox account (not compatible with iCloud).
What Are The Pros & Cons Of Using Scrivener
Pros:
You can easily split large projects into smaller, more manageable parts.
Its corkboard feature allows for easy organization and rearrangement of scenes, chapters and other elements.
It offers a vast library of formatting options to give your writing a professional look.
Its full-screen mode helps reduce distractions so you can focus on getting words on the page.
Cons:
It can be difficult to learn and understand all the features, and even experienced users may find themselves getting lost in the complex menus and options.
There is no direct integration with other services like Google Drive or Dropbox, making it difficult to share your documents with others.
The mobile version is not as comprehensive as the desktop app, so if you need to work on the go you may have to switch programs.
Finally, its price point may be too steep for some users who are looking for a simpler solution.
Product Updates
App icon tweaked to match macOS app.
Dropbox syncing speed improved.
Scrivener now supports fonts installed on iOS from font provider apps such as Adobe Creative Cloud and Font Diner. (The font chooser UI has been updated to use Apple's standard font picker to allow for this.)
Search bars have been updated to use the most recent iOS UI conventions.
PDF research files are now shown using Apple's dedicated PDF view rather than a web view, improving the viewing experience.
Updated outline keyboard shortcuts so that left/right arrow keys now expand folders and groups rather than drill down into them. To drill down, now use Cmd-right or hit return; to go back, hit Cmd-return.
Improved styles so that typographic settings such as small caps, medium, semibold and other features added to styles created on macOS or Windows now work in the iOS version.
____
Best Free Novel Writing Software
yWriter
Is ideal for novelists and other writers who need more organizational tools than a basic word processor. It's great for those who are planning out their novel or script, as you can easily manage characters, plot points, and locations in the program. It also doesn't have the same price tag as Scrivener.
yWriter is a free writing software designed to help authors track their characters, scenes, and ideas.
It breaks down the writing process into manageable pieces and allows you to focus on one task at a time.
It includes features such as character profiles, scene organization, outlines, multiple drafts, and more.
With its easy-to-use interface and tools for outlining, organizing, and tracking progress, yWriter is an ideal choice for aspiring authors looking to organize their work in a professional manner.
Key Features
Organize your novel using a project.
Add chapters to the project.
Add scenes, characters, items, and locations.
Display the word count for every file in the project, along with a total.
Saves a log file every day, showing words per file and the total. (Tracks your progress)
Saves automatic backups at user-specified intervals.
Allows multiple scenes within chapters
Viewpoint character, goal, conflict, and outcome fields for each scene.
Multiple characters per scene.
Storyboard view, a visual layout of your work.
Re-order scenes within chapters.
Drag and drop of chapters, scenes, characters, items, and locations.
Automatic chapter renumbering.
What Are The Pros & Cons Of Using yWriter
Pros:
Easy to use interface.
Structured approach to organizing stories and scenes.
Visual elements can help with outlining, storyboarding and editing.
Cost effective compared to similar programs.
Simple enough for first time novelists and experienced writers alike.
Cons:
Difficult to collaborate with other authors on one project.
Limited formatting options.
Fewer features compared to higher-end programs like Scrivener.
No support for writing in other languages.
Some users find the interface clunky and outdated.
Product Updates
Improved user interface with an intuitive layout and faster access to important areas.
Enhanced word processing capabilities with better spell-checking and grammar correction.
Automatically generated formatting rules based on genre.
Support for additional languages, such as Dutch and Polish.
Quick templates to help quickly format stories and screenplays.
____
Best Writing App ($39.99/year Or $5.99/month)
Ulysses
Is ideal for writers who need an organized yet flexible writing environment. It offers a wide range of formatting options, making it great for professionals who want to easily switch between different formats and styles while they write. Its collaboration features also make it well-suited for teams.
Ulysses is a powerful writing tool for macOS and iOS.
It provides features such as distraction-free writing, organization tools, formatting options, and support for multiple media types.
It also offers a library of templates for various projects, along with its own version of Markdown for easy formatting.
In addition, Ulysses integrates with popular services such as WordPress and Dropbox, allowing you to access your content in different locations.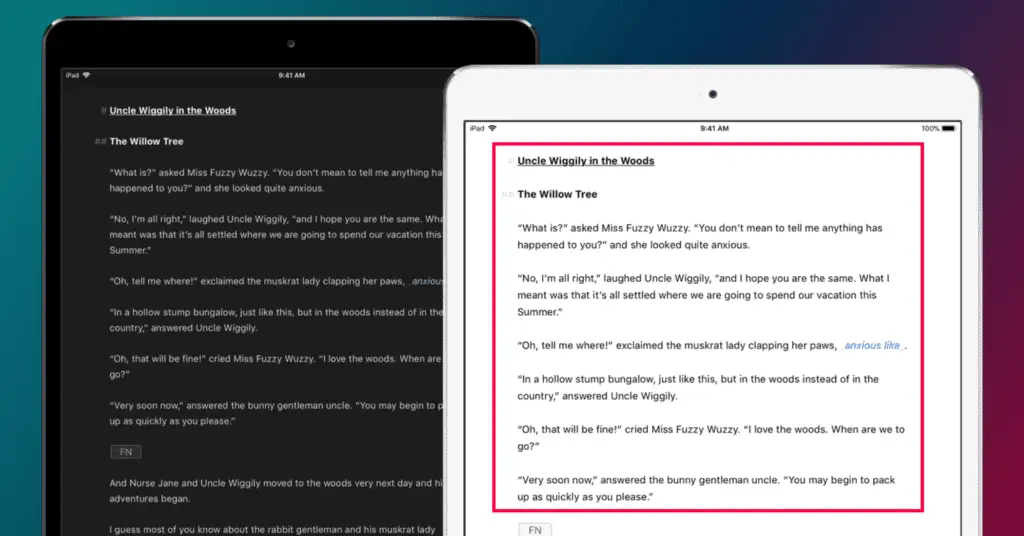 Key Features
Built-In Proofreader and Editing Assistant
After you're done writing, Ulysses can turn your texts into beautiful PDFs, Word documents, ebooks, and even blog posts. Everything is just a click away, with on-the-fly switching of styles and a live preview built right in.
Integrates seamlessly to these platforms: WordPress, Ghost, Medium, and Micro.blog.
All your texts will be stored in Ulysses' library, and seamlessly sync to all your connected devices.
What Are The Pros & Cons Of Using Ulysses
Pros:
Wide range of formatting options.
Easy to break up longer projects into multiple parts.
Robust organization and outlining features.
Collaboration tools for working with multiple authors or teams on one project.
Clean, intuitive interface that's easy to learn.
Cons:
Limited ability to customize the interface.
Some features are only available if you upgrade to a paid plan.
Inability to work offline.
Product Updates
Projects only show what's relevant to the project and hide everything else.
Each project uses a separate set of keywords and keyword colors.
Projects keep their own export style, file format, and preview.
All images will now show previews, even inside paragraphs and tables.
Revision Mode can now check for spelling and style errors inside table cells.
____
Best Free Novel Writing Software
Reedsy Book Editor
Is ideal for authors who need help refining their books before publication, as well as editors and publishers who want a powerful editing tool. The platform offers professional features such as automated formatting, comprehensive document search, and easy-to-use collaboration tools.
Reedsy Book Editor is an online writing tool that helps authors create professional books quickly and easily.
It includes a range of features such as word-count tracking, split-screen viewing, and automated formatting.
The editor also offers a library of templates for various genres, along with options for collaboration and self-publishing.
With its user-friendly interface and powerful tools, Reedsy Book Editor is the perfect choice for anyone wanting to write and publish their own book.
Key Features

A beautiful interface built for distraction-free writing. Our formatting toolbar makes it easy to apply styles as you write. When it comes to typesetting, consistency is key.
Say goodbye to managing chapter revisions with your editor and co-authors by email. Work together on your manuscript in real-time, tracking changes, editing prose, and making comments.
Exported files are ready for instant distribution to ebookstores, distributors, and POD services such as Smashwords, IngramSpark, Amazon Kindle Direct Publishing, Apple iBooks, and Kobo Writing Life.
Finished your draft and looking for an editor? Luckily, they have a marketplace for that! Bring in expert assistance, and work with them directly on your manuscript. Effortlessly.
What Are The Pros & Cons Of Using Reedsy Book Editor
Pros:
Comprehensive document search.
Automated formatting.
Ability to save a version history of your documents.
Easy-to-use collaboration tools.
Free to use.
Professional-grade editing tool.
Cons:
The price of hiring an editor can be quite pricey. Ranging from $0.01-$0.03 per word.
Product Updates
Improved book creation tools with automated formatting and advanced layout options.
Enhanced grammar and spell-checking capabilities for a more accurate editing experience.
Editing templates for certain genres such as science fiction, fantasy, and romance.
Support for additional languages including German and Italian.
Research tools to help quickly look up references while writing.
____
LivingWriter is a cloud-based writing platform designed to simplify the process of creating and organizing documents.
It features a comprehensive range of tools that make it easy to draft, edit and share your work with colleagues or readers.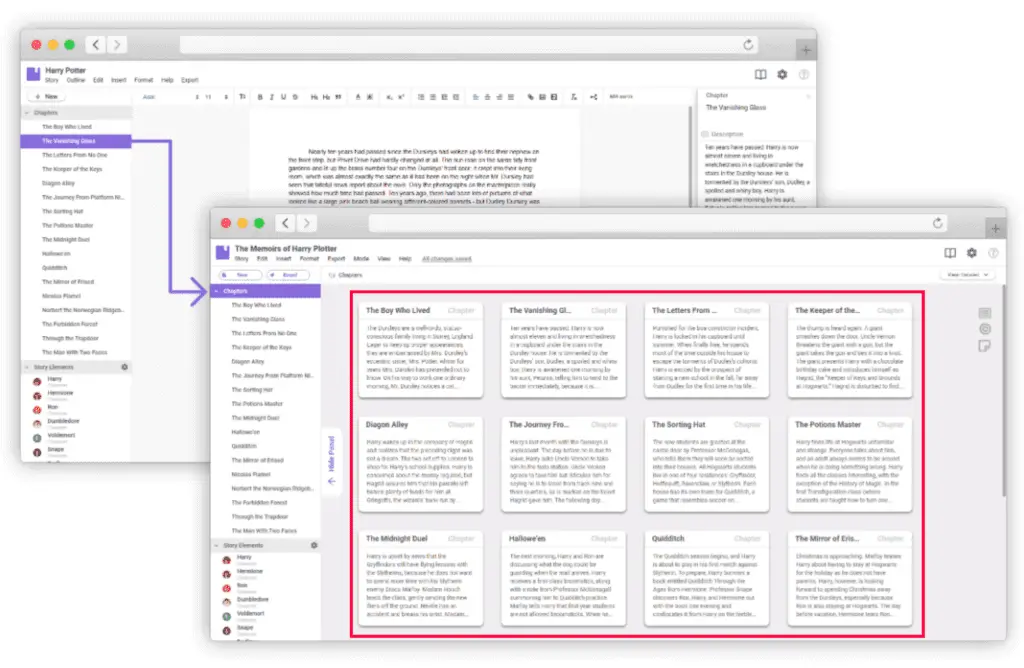 From editing in real-time to collaborating with multiple people simultaneously, Living Writer has all the features you need to write in an efficient and effective way.
Pricing
No Commitment – LivingWriter offers a 14 days free trial with no credit card required. Then you could either pay monthly for $9.99 or pay annually at $96.
Key Features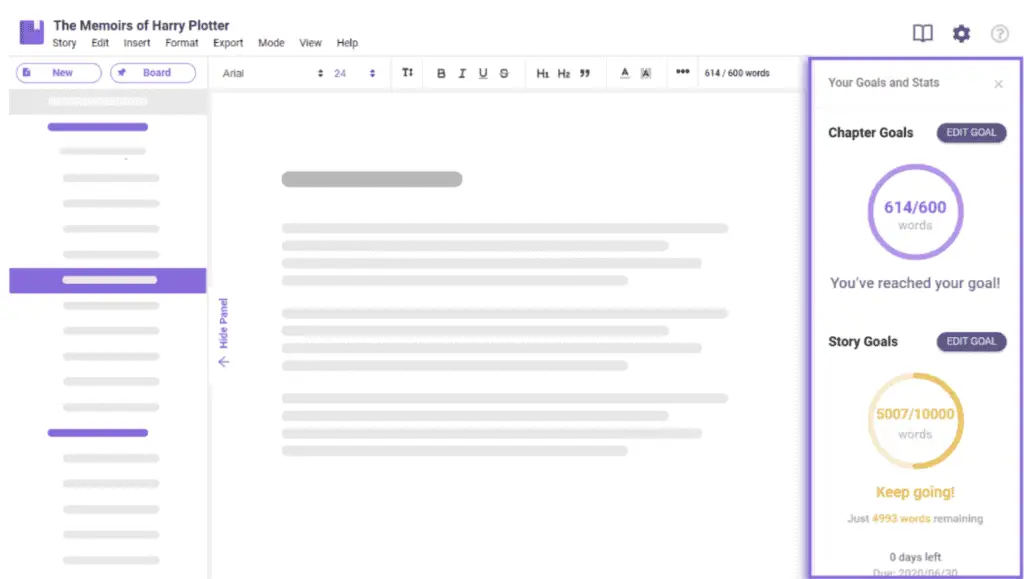 Seamless imports of your existing work –  Import your existing stories from other programs with a couple of clicks, and see how much easier it is to finish your second half on LivingWriter.
Share your work in pieces – You're midway through your thrilling murder mystery, but you get the feeling it's not suspenseful enough. Don't worry. LivingWriter is the only novel writing software with easy sharing and co-authoring features.
No need to hit "save" – Even if your laptop decides to have a meltdown, rest assured that your work is safe.
LivingWriter automatically saves every letter you type. Writing software that's cloud-based is the future!
Your work gets saved constantly, safely, into our Amazon Cloud Infrastructure and then we back it up for you every 10 minutes.
Intuitive writing goals – Writing goals helps you create a vision for your stories.
Visually seeing your goals will make a difference in your writing pace. There's no novel writing software that shows you your goals as beautifully as we do. Goals and deadlines can be motivating!
Smart text & auto-suggest – Store all your story's elements and LivingWriter will make them work for you. As you type a character name, location, etc. our editor will auto-suggest your elements. Clicking on your story elements will allow you to quickly access notes and other info for each element.
What Are The Pros & Cons Of Using LivingWriter
Pros:
Easy to use and navigate.
Completely free for 14 days.
Automated backup system to ensure your content is always safe.
Ability to collaborate with other writers in real time.
Robust search feature for quickly locating documents.
Cons:
No spell or grammar checker built into the editor.
No option to track changes made by different authors in a collaborative project.
Product Updates:
Improved user interface with easier navigation and a more intuitive layout.
Enhanced spell-checking and grammar correction capabilities.
Automatically generated character profiles based on writing style.
Support for additional languages, such as Spanish and French.
Macros to help quickly format and edit complex documents.
____
FocusWriter is a distraction-free writing program for the Windows, Mac, and Linux platforms.
It features a beautiful, customizable interface and an array of tools designed to keep you focused on writing.
With its multi-document support and various settings, FocusWriter is perfect for anyone looking to commit to their writing projects without distractions or interruptions.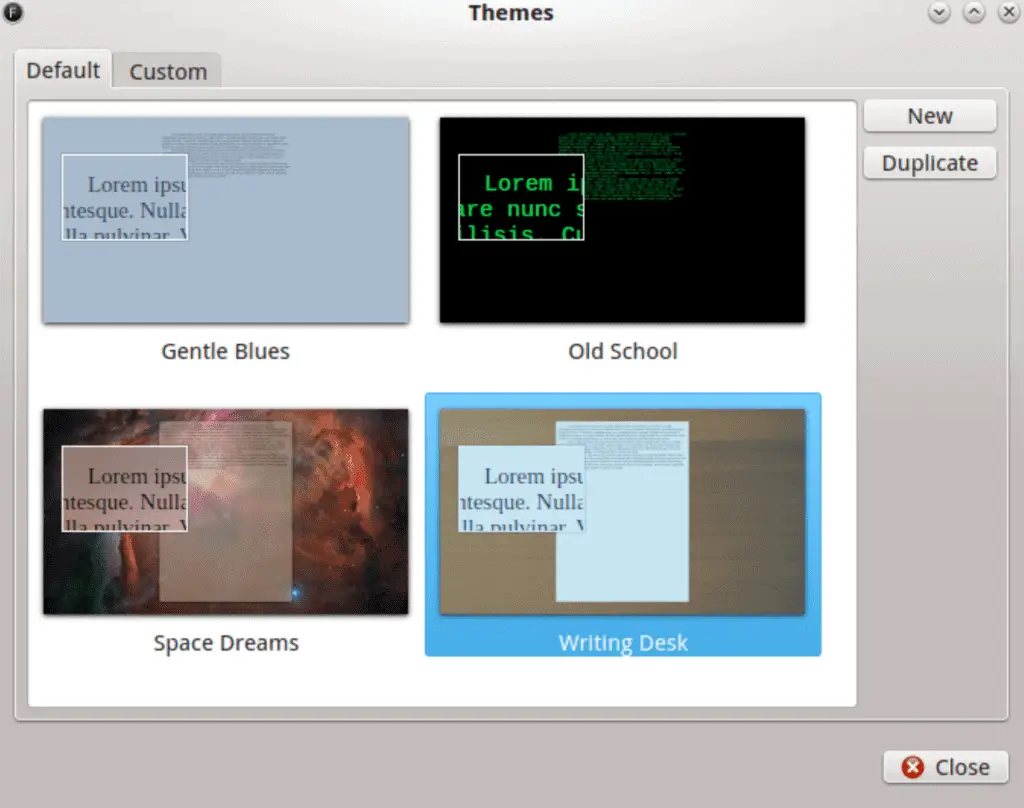 Key Features
TXT, basic RTF, and basic ODT file support
Timers and alarms
Daily goals
Fully customizable themes
Typewriter sound effects (optional)
Live statistics (optional)
Spell-checking (optional)
Multi-document support
Sessions
Portable mode (optional)
Translated into over 20 languages
What Are The Pros & Cons Of Using FocusWriter
Pros:
Simple and lightweight writing environment.
Ability to customize the user interface with themes and fonts.
Automatically saves your work as you write.
Supports multiple file formats for exporting content.
Includes a timer and alarm system to help you stay focused on your tasks.
Cons:
Limited customization options for the user interface.
No spell or grammar checker in the editor.
Does not support collaboration between multiple authors.
Does not provide a way to track changes made by different authors.
Product Updates
A new, modernized interface with improved usability.
Enhanced spell-checking and grammar correction capabilities.
Support for additional languages and writing styles.
Improved tab management and added hotkey support.
Live word count display to help track progress while writing.
____
7. ProWritingAid
ProWritingAid is a powerful writing tool designed to help you perfect your work and maximize its potential.
It offers a wide range of insights and reports on your writing to make sure everything is correct and consistent.
ProWritingAid also provides feedback on things like grammar, punctuation, sentence length, style, plagiarism, readability, and more.
With these features combined, ProWritingAid can be an invaluable resource for any writer.
Key Features
Improve your writing quickly and efficiently with 1000s of grammar, spelling, and readability improvements delivered in real-time as you write.
Has more writing reports than any other editing software. The editing tool highlights elements like repetitiveness, vague wording, sentence length variation, over-dependence on adverbs, passive voice, over-complicated sentence constructions, and so much more.
Style suggestions improve the power and clarity of your writing. Our team of copy editors has hand-coded thousands of rules to cover the most vital style improvements you can make.
What Are The Pros & Cons Of Using ProWritingAid
Pros:
Comprehensive grammar and spelling checker.
Ability to detect plagiarism and provide helpful suggestions on how to improve the writing.
Includes helpful tips and advice on style, grammar, punctuation, and more.
Provides a wide range of reports to help analyze your work.
Supports collaboration between multiple authors for editing purposes.
Cons:
The software is subscription-based and can be expensive for some.
There is a learning curve associated with the software.
If you have an older or less powerful machine, it can slow down your computer during use.
The reports provided by the software might not be as helpful as expected, especially to those who already have a good grasp of grammar and writing mechanics.
Product Updates
Improved speed and accuracy when analyzing texts.
Better integration with Google Docs, Microsoft Word, and other text editors.
New features such as in-depth reports on readability, tone, and style.
Enhanced grammar and spelling checking capabilities.
Support for additional languages.
____
Best Writing Software – Summary
Writing apps can be a great asset for anyone looking to improve their writing. The 7 best free writing apps, such as Focus Writer and ProWritingAid, offer a range of features to help writers become more efficient and effective in their work.
Focus Writer is an incredibly lightweight writing environment that allows users to customize the user interface with themes and distraction-free writing.
ProWritingAid is a powerful editing tool that provides comprehensive grammar and spelling checks, style suggestions, plagiarism checking, and much more.
With the advances in software technology these days, there are endless possibilities for free writing apps to provide us with the tools needed to create great content.
So if you're looking for free writing apps, look no further – these 7 best free writing apps are the perfect starting point. Happy writing!